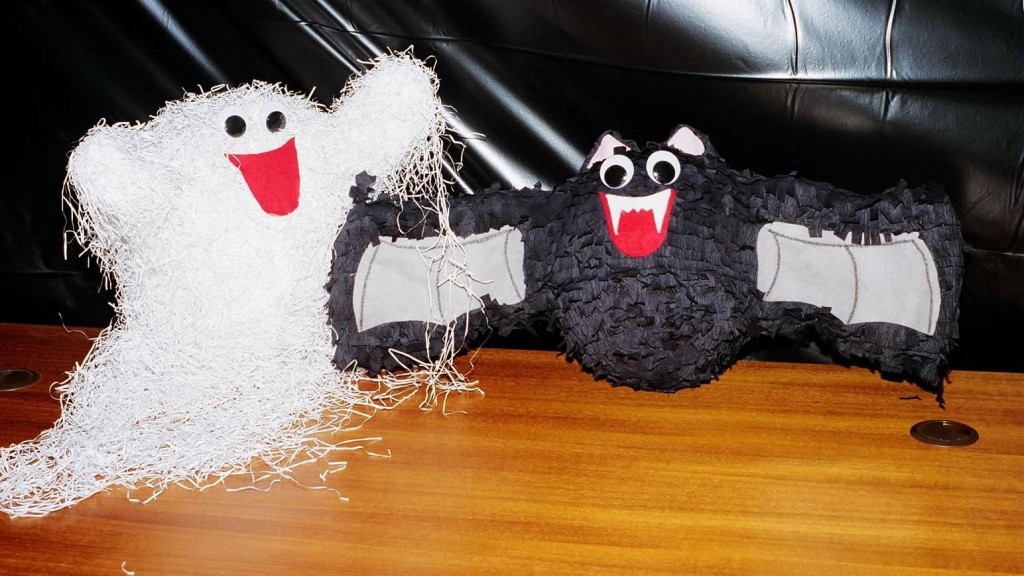 While cleaning my garage in September 1995, I discovered a box full of shredded paper. A defective neuron must have misfired in my brain at that moment, because my first thought when I opened the box was, "This would make a great covering for a ghost piñata." I had only made one piñata in my life before that, two decades earlier in my fifth grade art class. But it turns out that that eccentric little neuron was right – that shredded paper really did make a great covering for a ghost piñata.
The bat is decorated using black crepe paper, colored felt, and googly eyes. Everything is glued on using Elmer's Glue. I drew lines on the wing membranes using a black marker. If you look closely, the wings aren't quite even. Nobody noticed.
Austin, Texas is known for its summer bat population, and we broke this piñata as the culmination of a local Girl Scout bat activity.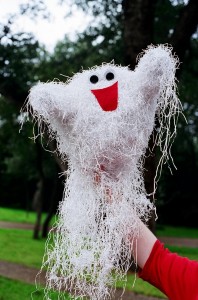 This shredded paper had been used as packing material, and was much longer than the shredded paper you can buy for using in gift bags.
I glued the shredded paper onto the ghost by smearing Elmer's glue onto the piñata and then pressing wads of shredded paper against the glue and letting it dry.
The overall ghostly effect of the shredded paper was exactly what I imagined it would be, and I was really happy with it. When the kids attacked the ghost at a neighborhood Halloween party, the shredded paper made a ghastly mess which only added to the fun. Until I had to clean it all up.
I spray painted these piñatas before decorating them because I wasn't sure how well the shredded paper would cover the ghost, and I didn't want newspaper showing through. (The ghost is painted gray because I didn't have any white paint.) I didn't expect the newspaper to show through when I decorated the bat, but I painted it anyway.
I still don't know what made me think of piñatas when I opened that box and started me down a 20-year path of piñata-making. Maybe someday neuroscience will discover a recessive gene in the brains of otherwise ordinary people that causes this kind of behavior. Whatever the cause, I'm glad that weird little neuron spoke up when it did.