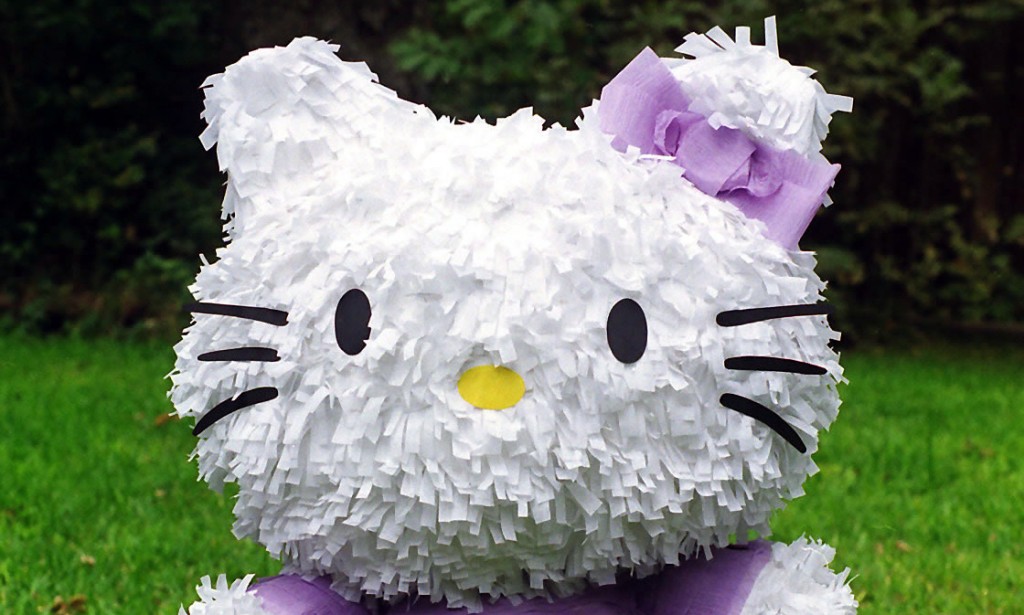 I didn't really like the idea of my 5-year-old daughter attacking Hello Kitty with a stick, but that's what she wanted, so Goodbye Kitty.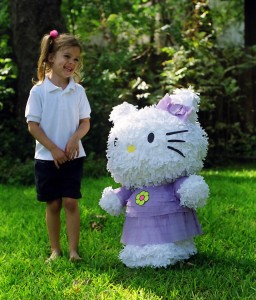 Hello Kitty's body was an ordinary 12″ party balloon, but her head was a punch ball that was squashed into an oval shape. I kneeled on the punch ball on my living room carpet to flatten it out some, then kept kneeling on it as I slowly rolled the punch ball forward and wound duct tape around it. This was an imperfect method and you can see that the head is not quite oval, but the fluffy crepe paper really helps hide the flaws.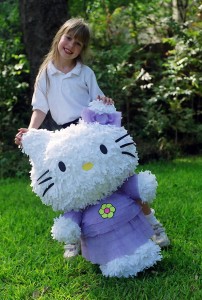 Hello Kitty's oversize head put a lot of weight on the body underneath. I had to strengthen the walls of the body to support the weight of the head, but that made the body too tough for 5-year-olds to break. This situation arises often with large piñatas. The solution is to make the walls as thick as they need to be, then punch lots of holes in them with a knife, creating weak spots.
Hello Kitty's hands and feet are made from small balloons. For the soles of her feet I cut out two cardboard ovals and taped the balloons to them before covering them in crepe paper. This gave the piñata flat feet to stand on. The face and flower are made from card stock, and the bow and dress are made from crepe paper using double-stick tape.