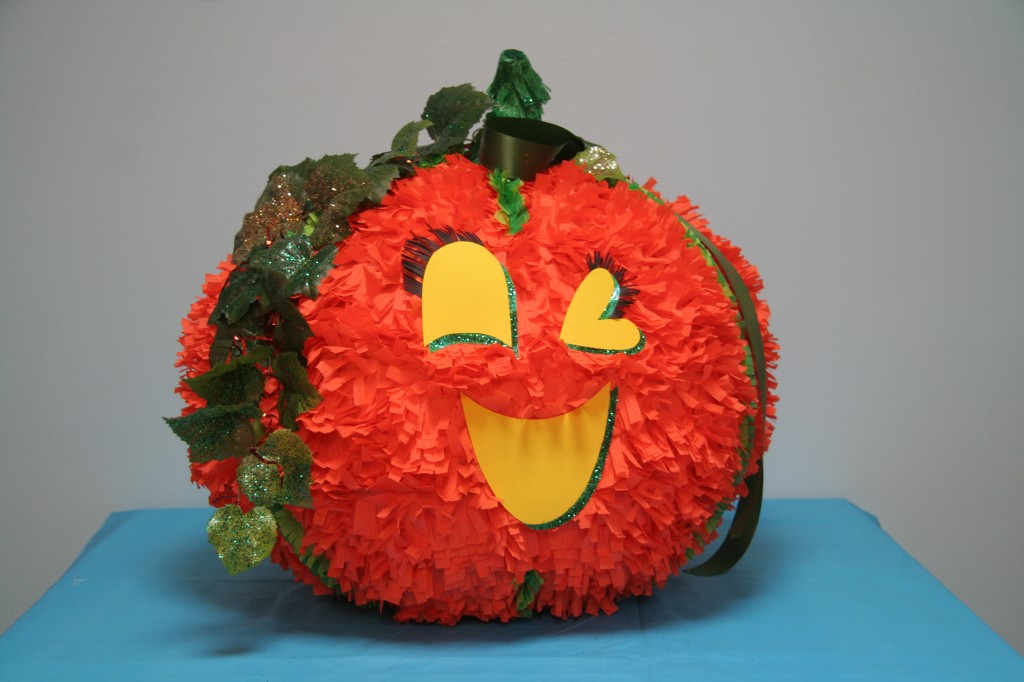 This glitzy gourd with glitter galore is guaranteed to get any girl giggling! But it wasn't all winks and smiles getting here…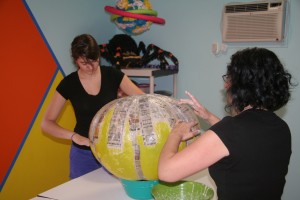 I had one idea for making a pumpkin-shaped piñata, and Cat had another. Her idea was to make a wire cage and inflate a punch ball balloon inside the cage so the balloon would blow up in the shape of a pumpkin. I knew that would never work, but Kerry sided with Cat. All right, then, ladies – challenge accepted.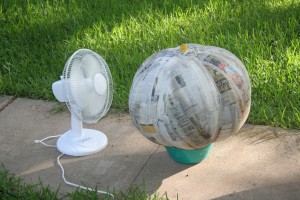 But somehow Cat's idea worked just like she said it would, and they were off to a flying start. With their pumpkin already fully shaped, they applied a few layers of papier mâché and were soon ready to decorate.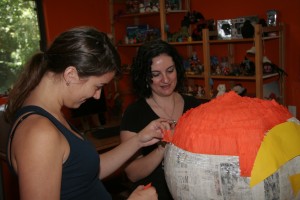 They glued on a face made from yellow poster board and began applying snipped orange crepe paper. In this photo the piñata is upside-down, and they're gluing the crepe paper on from the bottom of the pumpkin working toward the top.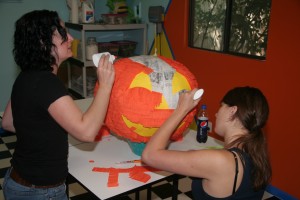 In no time at all they were almost done with the crepe paper decorating. My piñata, meanwhile, was a complete train wreck. Click over to the Jack-o'-lantern pics to see. This competition was not going at all the way I planned.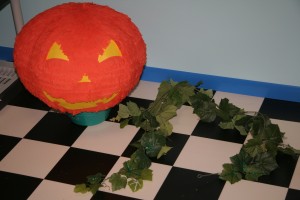 The crepe paper is finished. Now comes the accessorizing. But wait a minute – that's not the right face!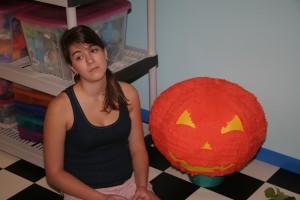 Kerry haz a sad. I finally got my jack-o-lantern piñata back on track. Kerry took one look and knew she had a problem. Mine was wacky and fun and had personality, and theirs was just meh. Kerry has also just realized that they forgot to add a stem to their pumpkin before they decorated it. She's going to have to rip off some crepe paper and do more papier mâché work.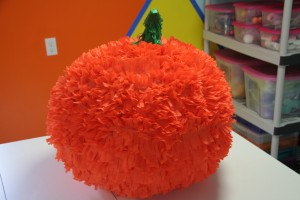 Kerry tore off the face, added a papier mâché stem, and covered everything in snipped crepe paper. In hindsight she said the glittery decorations with their original jack-o'-lantern face would have made their piñata look like a drag queen jack-o-lantern. And not in a good way.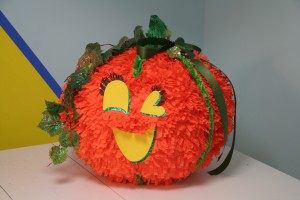 Kerry designed a new face for her piñata – fun, flirty, and feminine – and suddenly it's heyyyyy cutie! Whatchu doin' this Halloween?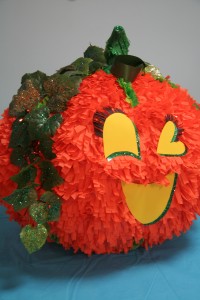 Kerry pulled plastic leaves off a store-bought vine and created a more flowing pumpkin-like vine using floral wire. She glittered up the leaves to make them sparkle.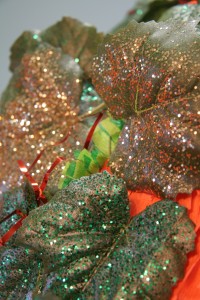 The glitter on the leaves is a mix of vibrant green with some added gold for a touch of fall harvest chic.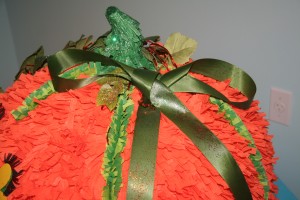 Jill wears a glittered green bow in her, um… rind.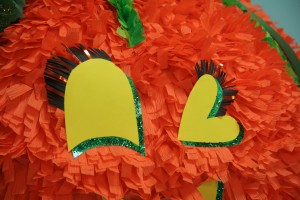 The eyes were made from yellow card stock against a shiny green paper background. The shine of the green background was enhanced with glitter. The eyelashes are made from black card stock along with a metallic orange ribbon that's also laced in among the vine leaves.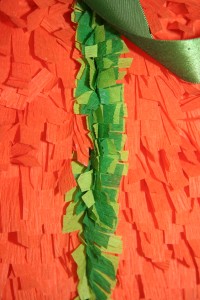 Although the papier mâché sculpture was nicely pumpkin-shaped, fluffing up the crepe paper buried the indented ribs of the pumpkin and made the piñata more round than pumpkin-shaped. So Cat and Kerry added green crepe paper highlights to the ribs to help bring out the original pumpkin shape.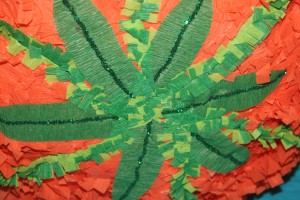 The bottom of the piñata has crepe paper leaves with glitter veins.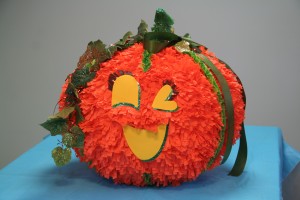 Trick or treat? She's a treat, that's for sure! Happy Halloween everybody!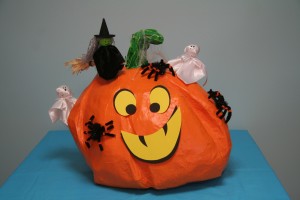 While Cat and Kerry were creating this fabulous Jill-o'-lantern piñata, I was working on a wacky Jack-o'-lantern. Click the link to learn more.