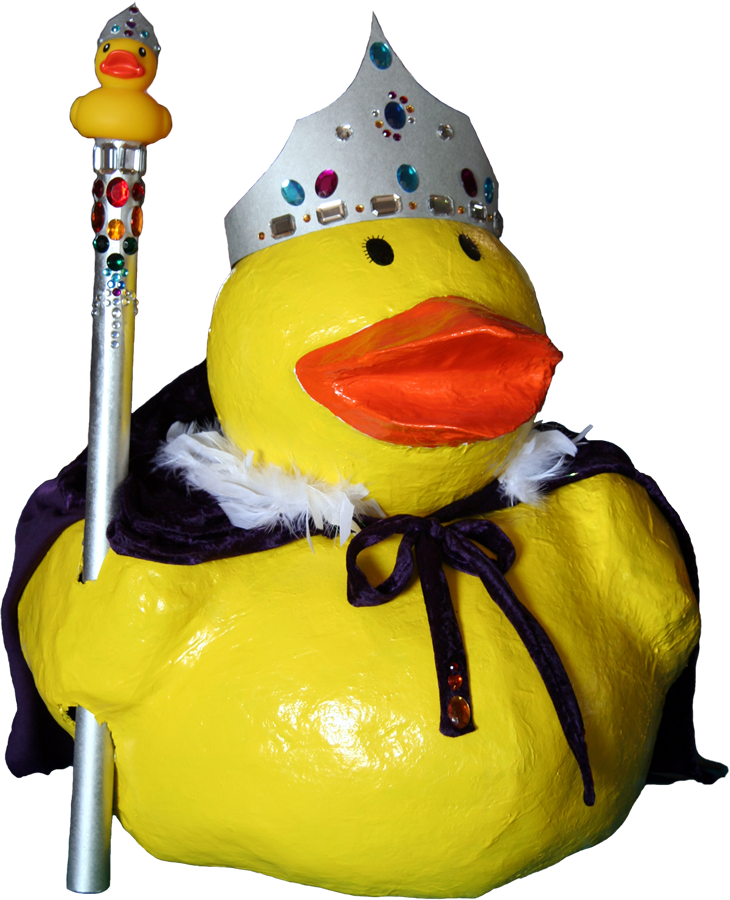 If I had to choose one piñata to rule the world, I would choose the Princess Ducky. But this one doesn't want to rule the world, she just wants to party!
Her head and body were punch balls, with the body reshaped after the papier mâché had hardened. That was more difficult than I expected, and hidden beneath her purple robe is a battleground of cuts, patches, and uneven surfaces. Crepe paper would have easily covered the scars, but I wanted to paint this one. I used latex house paint, left over from a project years earlier. I didn't know yet that I should use a stain-blocking primer to stop the newsprint from bleeding through the paper, and it took three or four coats of paint to finally cover the printing.
To make the wings I wadded up some newspaper and wrapped it in newspaper. Then I squashed it into shape, taped it to the side of the ducky, and covered it with papier mâché. When the papier mâché dried I cut the wings open and removed all the newspaper stuffing. The duckie's bill was made of poster board covered with papier mâché. The eyes were drawn on using a Sharpie marker.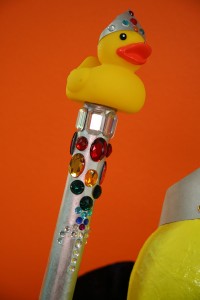 The royal scepter was a sturdy cardboard tube from a roll of wrapping paper. I covered it with paper to hide the cardboard texture, then spray painted it silver.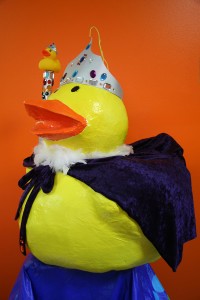 The two crowns were made from poster board spray painted silver, with plastic gems hot glued on.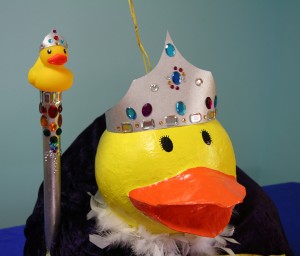 The hanging hook was anchored inside the body, and ran up through the head. The head was hollow and could have been a separate candy compartment, but I was worried about the piñata tipping forward if I put a bunch of weight in the head. The body was big enough to hold everything.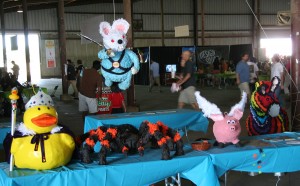 The Princess Ducky was one of six piñatas I made when Maker Faire visited Austin in 2007. The sixth one, not shown here, was a Porcupine Pufferfish. We smashed the Space Mouse at the event.