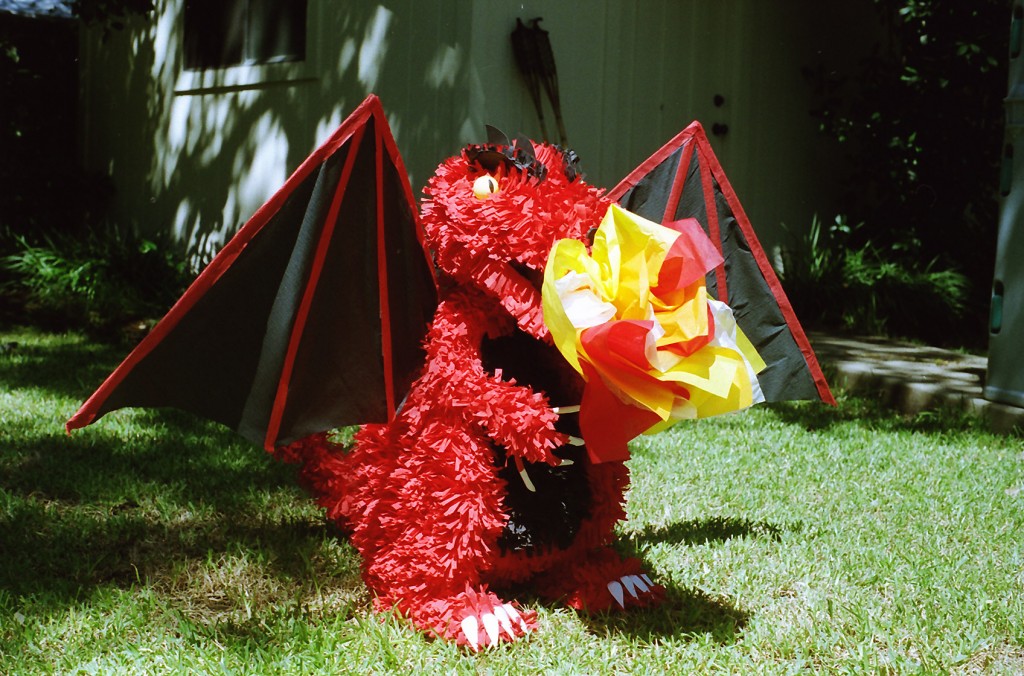 After I read J.R.R. Tolkien's The Hobbit to my kids, Kerry decided she wanted a Hobbit party for her 6th birthday – and you can't have a Hobbit party without defeating Smaug at the end, right?
I had already made the Green Dragon a few months earlier, and Kerry wanted her Smaug piñata to look like that, only red.
I didn't take any pictures of the Smaug piñata while it was being made, but it was constructed just like the Green Dragon except that this time I attached the hanging hook to the candy compartment in the belly instead of to the top of the head. The hook came out just above the shoulder blades of the dragon. 
We used the same piñata stick sword from the Green Dragon.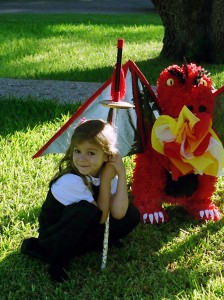 Smaug's wings were framed with wire shirt hangers duct-taped to the inside of his back. The black wing membranes are made from sheets of crepe paper.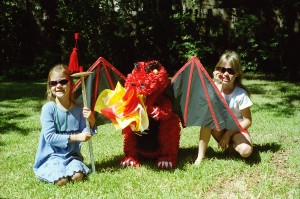 They're smiling because they already know how this whole thing is going to end. We read the book, remember?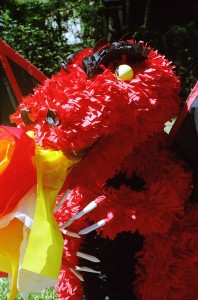 The flames were just four sheets of tissue paper – red, orange, yellow, and white – folded over my hand and then stuffed into the mouth. The flames are not actually attached to the piñata in any way, and will get batted out early in the bashing.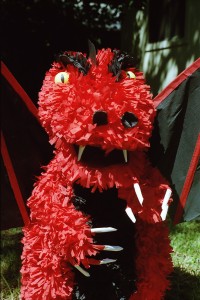 Here's Smaug with his flames removed. The teeth and claws are cones made from cardstock. I made hands with fingers out of wire shirt hangers so I would have something to attach the claws to. The eyes are painted ping pong balls.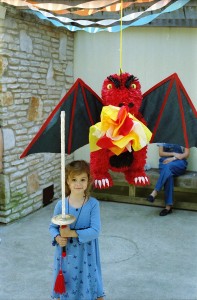 The hour is at hand – to arms, children of Esgaroth! To arms!
The battle was mostly a blur (owing largely to poor camera focus on my part). The wings were the first to go, followed by an eye, the flames, the tail and an arm, and then the dragon's battered body finally gave out.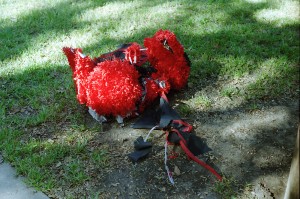 Sic semper tyrannosaurus!
Apologies to all you history nerds and fantasy geeks. I couldn't resist.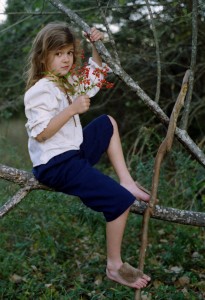 With the death of Smaug, the party was soon over, but Kerry's days as a hobbit were not. Two years later she won a Lord of the Rings costume contest at Book People dressed as a hobbit.