I usually avoid working with cardboard because it's difficult to break with a stick, but sometimes due to time constraints or the nature of what you're making, thin cardboard is the best choice. If you're going to use thin cardboard, most of the time you still have to cover it with papier mâché in order to stiffen the sculpture so it holds its shape.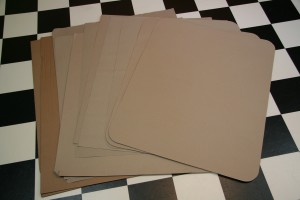 You can get big sheets of thin cardboard for free from Costco or Sam's Club. You'll find them in the stacks of paper towel and toilet paper, and also in various other stacks of boxed goods throughout the store. They have always let me just have them.
Store-bought piñatas sometimes use corrugated cardboard for the target area of a piñata, but I never do. It's just too hard to break.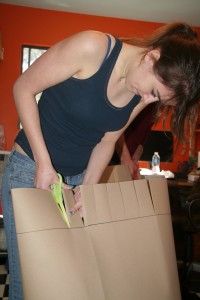 In order to round off an area using thin cardboard, I cut a series of parallel snips in the cardboard and then bend them in on one another. When bending thin cardboard into shape, all the cuts must be the same length. If your cuts are different lengths, the cardboard will pucker and create pointed bumps.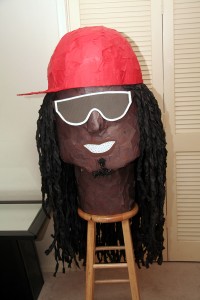 With careful cutting you can get a smoothly rounded shape out of thin cardboard much more quickly than you could using a large punch ball. Just be careful that it's not too hard to break – folding all those flaps down can create multiple layers of cardboard to break through, so you may need to do some creative cutting to make it breakable, especially for kids.