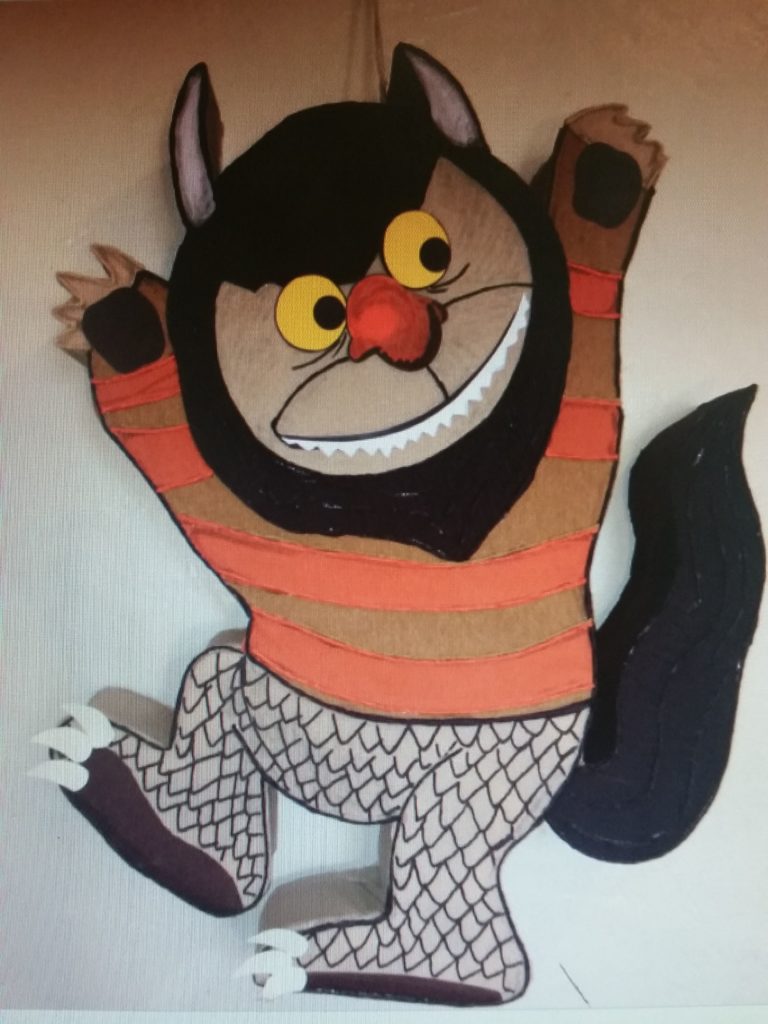 Hello, I was wondering if you could please give me ideas on how to make the attached Pinata.
Thank you so much,
Mary
Answer from Piñata Boy
Oddly-shaped character piñatas like this are often made by cutting out two identical shapes from cardboard to serve as the front and back of the piñata, and then spacing them apart by running a long strip of cardboard that's maybe 4″ to 6″ wide all along the perimeter of the cardboard, perpendicular to the large flat surfaces.  This edging strip can be taped or glued in initially to hold it in place, but it will have to be cemented over with a couple layers of papier mâché in order to support the weight of the candy without coming apart. You can see how thick this piñata is (how wide the edging strip of cardboard is) by looking at the tail, the top of the left foot, and the side of the left hand.

Depending on the size of the piñata, the age of the kids, and the thickness of cardboard, you might be able to decorate directly over the cardboard front and back without reinforcing it with papier mâché.  You'll want to decorate in a way that hides the papier mâché along the edges. Some people put the front of the character on one side and the back on the other, and some people just use the same front-facing design on both sides.
The picture you provided looks like they used a variety of materials to decorate with.  The shirt includes pieces of cloth glued to the piñata, the edges of the shirt are outlined with a raised edge that could be yarn or fabric paint.  It looks like they also used paint on the tail along with fabric paint for texture.  The pants look like cloth that was drawn on with marker, and the bottom of the feet look like felt.  The eyes are either colored cardstock or craft foam.
Be careful with the hanging hook in a piñata like this. All of the weight will have to be supported by the hanging hook, so you will probably want to reinforce the top edges of the piñata more securely than the rest to make sure it doesn't pull apart from the weight of the candy and all the bashing.  The top of the piñata is not a target area, so go ahead and make it unbreakable.  The kids should have no trouble ripping an opening along one of the cardboard-to-cardboard seams around the edge of the piñata, and that's where it will eventually break open.
Good luck!