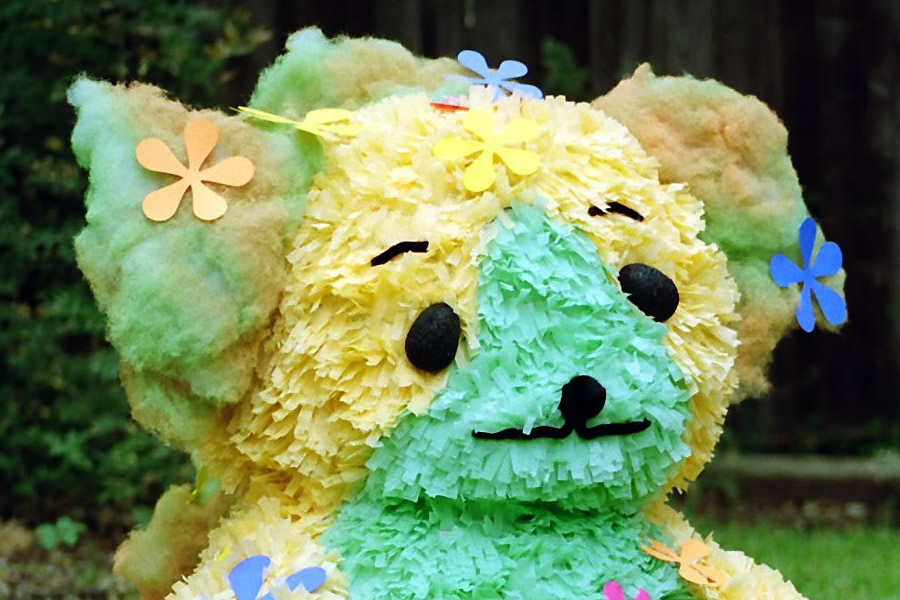 In 2004 my daughters were hopelessly ensnared in an online game called

A Feepit is a creature in the game, and this particular style of Feepit is known as a Disco Feepit. 
Notice that the Disco Feepit is not so much 1970's Disco as 1960's Flower Power. What a difference a decade makes.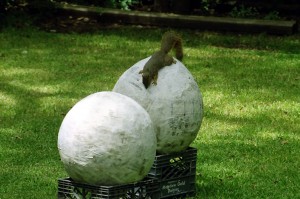 The Feepit piñata was made from two punch balls stacked on top of each other, with smaller balloons forming the hands and feet.

The Feepit's eyes were Styrofoam eggs cut in half and painted black. I placed them unevenly on the face to help give the Feepit a look of innocent cuteness and curiosity. The mouth and eyebrows were black pipe cleaners. The nose is a black puff ball. The flower power stars were cut out from colored card stock.
The tufts of hair and the tail were made from pillow stuffing. I pulled the pillow stuffing apart to fluff it out more, lightly spray painted it orange and green, and used hot glue to attach it to the piñata. The sunglasses were made from pink and purple poster board (the purple shows up blue in the photos).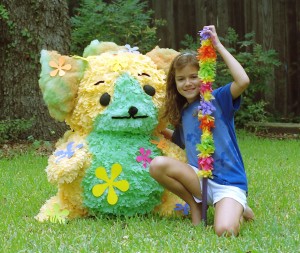 The Feepit's body had to be sturdy enough to support the weight of its head, which meant many layers of papier mâché were required. This made the piñata too tough for the kids to break, so the walls were weakened by stabbing them all over with a knife before the crepe paper decorations were added.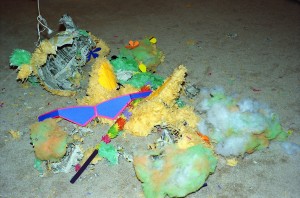 A second-place finisher in the Battledome.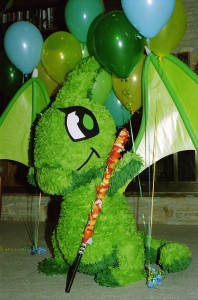 For another giant Neopets piñata, see the Green Shoyru page. That one posed a unique engineering problem that was finally solved after 30 minutes of wandering the aisles at Home Depot.