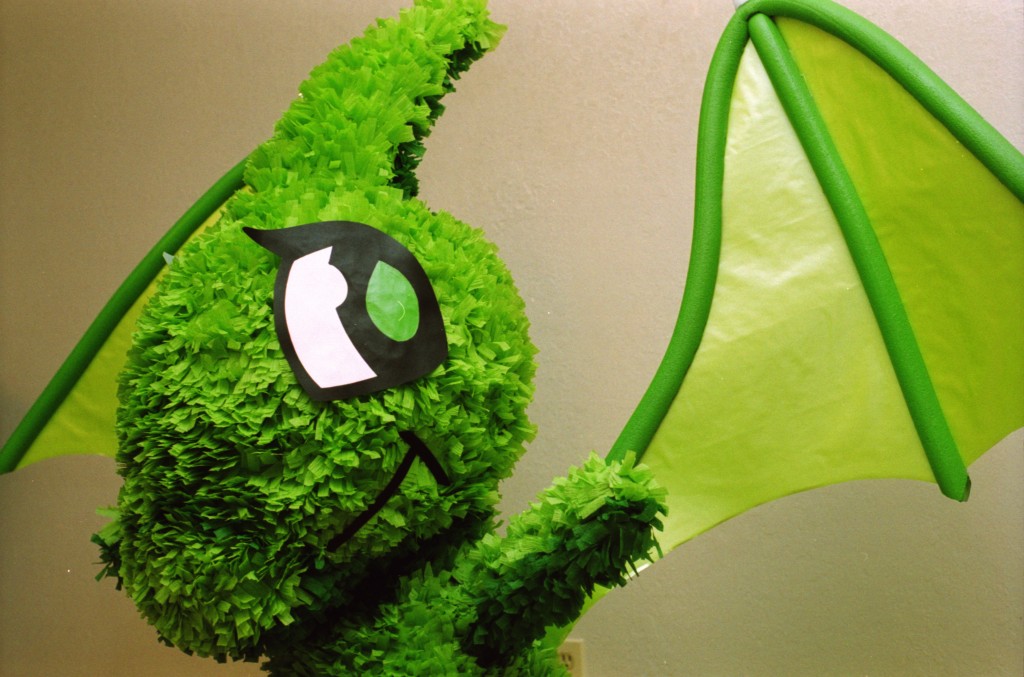 This monster piñata was over 4½ feet tall and had a 7 foot wingspan.
A Shoyru is a virtual pet from the online game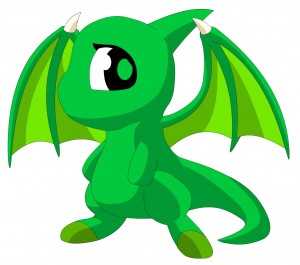 My daughters played this game obsessively in the summer of 2004. Amy had a green Shoyru in the game, and wanted a piñata of her virtual pet for her birthday.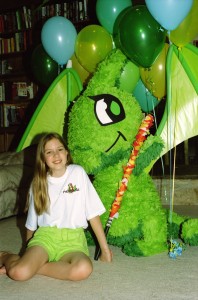 Constructing this beast was as much an engineering problem as it was a craft project. The real problem was those wings. They're huge, and they're attached only at two teeny little points on the back. Somehow I had to find a way to make the gigantic wings hold their shape and not fall off or sag to the ground under their own weight.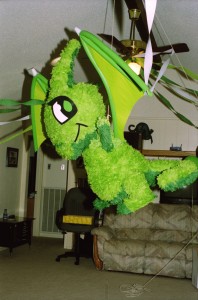 I solved the wing problem by wandering the aisles at Home Depot. Eventually I came upon some 3/16″ copper wire. It was malleable enough to bend, but heavy enough to hold its shape even with the wing material attached to it.
I threaded the copper through two small holes in the back of the Shoyru and duct-taped it in place. I covered the copper with foam pipe insulation that I had painted green, and hung another piece of pipe insulation straight down to form the "fingers" on the wings. The wing membranes were made of poster board covered with green wrapping paper.
Among the party guests were two sisters Amy met in her swimming class. When their parents dropped them off, the girls' mother went back to the car and dragged her husband inside to see the piñata. They both said many nice things about the piñata, and I found their comments particularly satisfying because these parents knew a thing or two about piñatas – they were the deputy consul at the Mexican Consulate in Austin and his wife.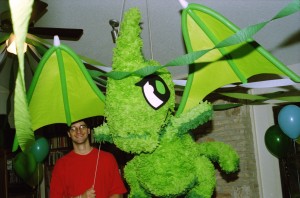 Just ignore the dork in the red shirt. I don't know who he is or how he got on this web site.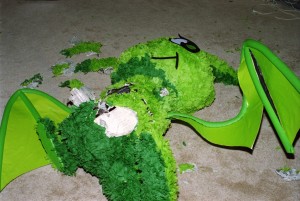 The Shoyru piñata after being attacked by a vicious pack of candivores.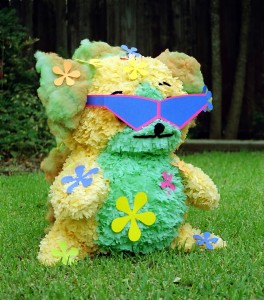 Later that year I made another Neopets piñata for Kerry's birthday, something called a Disco Feepit.