Simple doesn't mean boring! All of the piñatas on this page are based on just one or two balloons. In most cases the papier mâché work can be done in a day or two, and after that it's all decorating. If you're making your first piñata or if you're on a short deadline (or both!) but you want an eye-catching piñata for a special event, you can do it – just make a simple piñata and decorate it in a creative way.
The Demon Smiley and Santa Smiley are both based on one round punch ball. The difference between them is entirely in the decorating. 
The Porcupine Pufferfish piñata is based on a round punch ball with an attached cone that forms the tail section – the papier mâché work went quickly, but this piñata required almost 30 hours of decorating!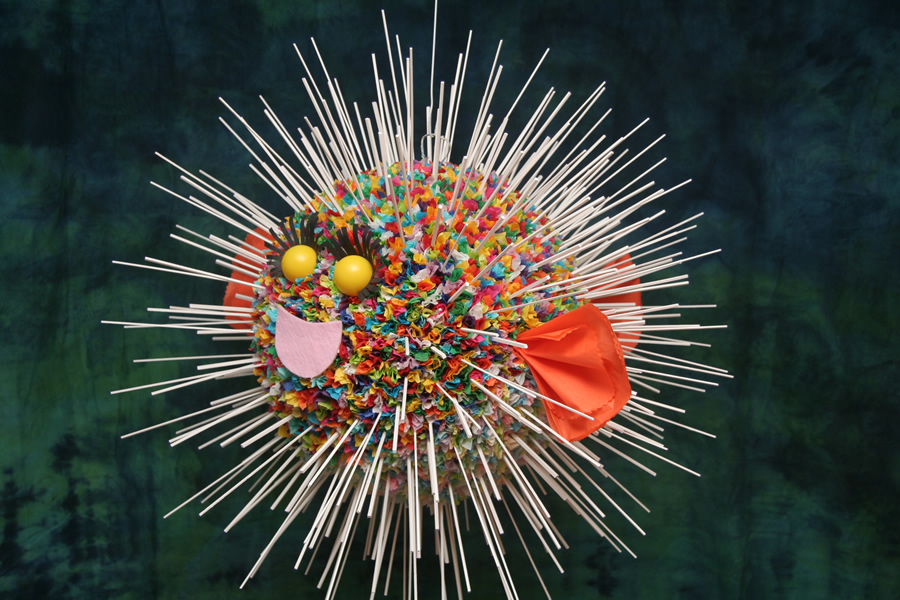 A Pig piñata is just a 12" party balloon with ears, legs, and a snout added on. Decorating these Pigasus piñatas required more time than usual, but a cute pig piñata can be made in just a couple days by decorating with crepe paper. You can find step by step instructions for making a Pig piñata on the Make a Pig page. 
Heart piñatas can be made by shaping long balloons into a heart shape, or by starting with a heart-shaped Mylar balloon from a party store. Instructions for making both of these hearts are on the Make a Heart page.
Occasionally a larger piñata such as the Jill-o'-Lantern will be based on just one big punch ball, but large piñatas require considerably more papier mâché work than a typical simple piñata does. Make sure you have plenty of time if you decide to make a large piñata, because each step along the way takes longer.